Return to Headlines
GISH's Mora one of 48 Honored as 2022-2023 Believers & Achievers
Working hard is just part of what Isabella Mora does. Now, she's being recognized for it.


Bella, a senior at Grand Island Senior High, was one of 48 high schoolers selected as 2022-2023 Nebraska School Activities Association (NSAA) and Currency Believers & Achievers. Bella was honored for the program at the Class A football championship game in Lincoln's Memorial Stadium on Nov. 21.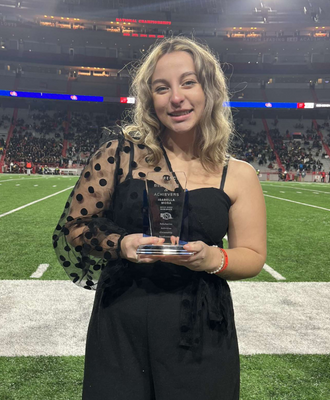 The state-wide program recognizes Nebraska's future leaders and was designed to reward Nebraska high school seniors for their excellence in academics and participation in NSAA activities. NSAA member schools may nominate a maximum of four students each year. From the nominations submitted, NSAA and sponsor Currency selected 48 high school seniors from across the state. The selected seniors will be honored at an upcoming banquet, 12 of which will be honored with a scholarship.
As a student leader, Bella is involved in competition One-Act (NSAA sanctioned), National Honor Society, show choir, theatre production, and m
ore. She was nominated for the Believers & Achievers program by GISH Activities Director Cindy Wells.


Part of the application process also included an essay.
"I think the question was 'what do you want your legacy to be after high school'," Bella said. "My response was that I'm so much more [than just being involved in an NSAA sanctioned activity]. I do so much more than that, and I do it to my best ability," she said.


Bella said whatever she is involved in, she gives it her all because she knows it will benefit her in the long run.


"I show up every day even when I'm not in the mood. And when I am there, I'm giving my 100 percent," Bella said.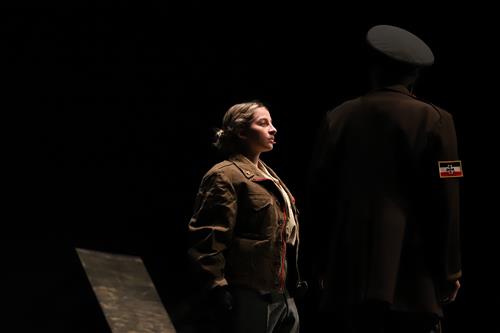 Performing and music are some of Bella's biggest passions. She joined show choir in sixth grade, where she discovered her love for music.


"Many of my teachers have influenced that passion," Bella said. "Just being able to be in performing arts and be on the stage…it's my home," she said.


Bella said being recognized as a Believer & Achiever confirms her passions and hard work.


"My hard work is paying off. And I feel like everyone needs to know that their hard work is paying off," Bella said.


She finds another passion in the classroom, as she is in the counseling & mental health pathway in the Academy of Education, Law, and Public Safety. She said she is glad to be able to learn what she is interested in while in high school.


"My current plan after high school is to attend the University of Nebraska-Lincoln and study psychology," Bella said. "I get my love for psychology from being in the counseling and mental health pathway. It's really fueled my passions for the study of mental health. I also hope to continue pursuing all of my interests in performing arts, like a minor in music."


Eventually, Bella wants to work in the field of neuro-psychology, which is the process of understanding how the brain affects the body regarding mental health.


"There is an explanation for everything, and I just want to be able to figure that out and help people."

Congratulations on being an NSAA Believer & Achiever, Bella!


#IslanderPride