Return to Headlines
GISH Student Group Awarded Grant for Inclusivity Mural Project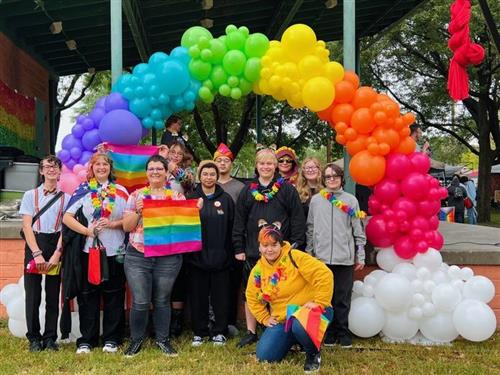 "No one sits alone."
That's a main rule for the LGBTSA club at Grand Island Senior High, and something they are trying to exemplify through an inclusivity mural project.
The student group, which has 70 members and was re-established as a club last year, is working on a mural project to celebrate all students who make up the GISH community.
The grant, "50 States. 50 Grants. 5,000", is provided by the It Gets Better Project. IGBP was given a donation of $500,000 from American Eagle, and allotted up to $10,000 to one school in each state to create a project that helps support LGBT students.
Laila McComb, a senior and the president of GISH's LGBTSA club, discovered the grant opportunity with one month left to apply. Laila, with support from staff sponsor and GISH social worker Aly Alexander, wrote the grant proposal, estimated a project budget and completed the application.
After months of anticipation, Laila and the group members were informed they were awarded the full $10,000 grant.


"I was elated. I was jumping up and down, I was so excited," Laila said about receiving the news about the grant. It was her first time writing a grant application, and this one was special to her.


"It made me so happy that all these sleepless nights and rough drafts, and revision after revision after revision, finally paid off and I could do something for my community, and it would mean something," Laila said.


The group is weighing different options for the mural and considering the project's legacy, whether it is a traditional painted mural or a digital display. The grant requirements include creating a project that helps support LGBT students, but Laila and her fellow LGBTSA group members wanted to expand the project to include all of the different communities and students at GISH.
Excitement and support for the project even carries districtwide.


"Celebrating our rich diversity and elevating student voices are core to who we are." Dr. Tawana Grover, GIPS Superintendent, shared, "We're incredibly proud to see the LGBTQSA club earn this wonderful opportunity to advocate for greater inclusivity across their school, our district, and even our community. They exemplify leadership, respectful advocacy, and creating a sense of belonging for all. That's inclusivity. We're grateful for their student leadership as they help us champion Every Student, Every Day, A Success."


At the end of the day, it's about helping students feel seen, heard, and supported – all students.


"We have many diverse cultures and communities in school, we want everyone who attends GISH to feel welcome, safe, and valued," Aly Alexander said. "When students feel supported, they will want to consistently be in that environment. When students feel valued, they will value themselves and each other as well."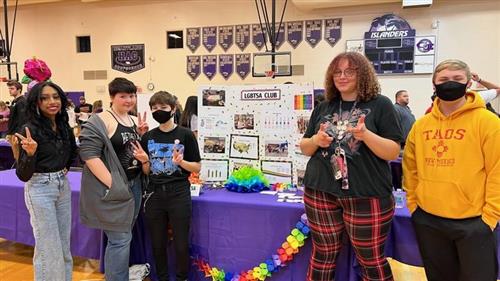 Jayson Shelton, a sophomore at GISH and LGBTSA club vice president, said there are many students and student groups who are doing great things but aren't as well-known, such as students in poetry club or mariachi band. Jayson said the mural project is a great opportunity to showcase all students who make up the whole GISH community so everyone feels welcome.


"Being able to represent those things is what this mural meant for. It's to give students places to be seen and the ability to be heard," Jayson said.


Mr. Jeff Gilbertsion, GISH Executive Principal, affirmed the efforts.


"Our brand promise at Grand Island Senior High is built on fostering an environment where everyone has a place that is relevant to their future." Gilberton continued, "That brand promise was established by students and I can't say enough how proud I am to see our LGBTQSA group; these students leading this inclusivity mural project. We support their voices and the impact they're making in our hallways for their peers and our staff."


While the project did not require approval by the Board of Education, the students were invited by the Board to share their voice and vision for the art project as an exciting update at this evening's meeting (10/13).
Aly said the group wants to influence a culture of community and inclusion, where people are celebrated for just being their authentic selves.


"We are ecstatic that we've been provided with the resources to make our school a better place for our current and future students," Aly said.